Thinguma*jigSaw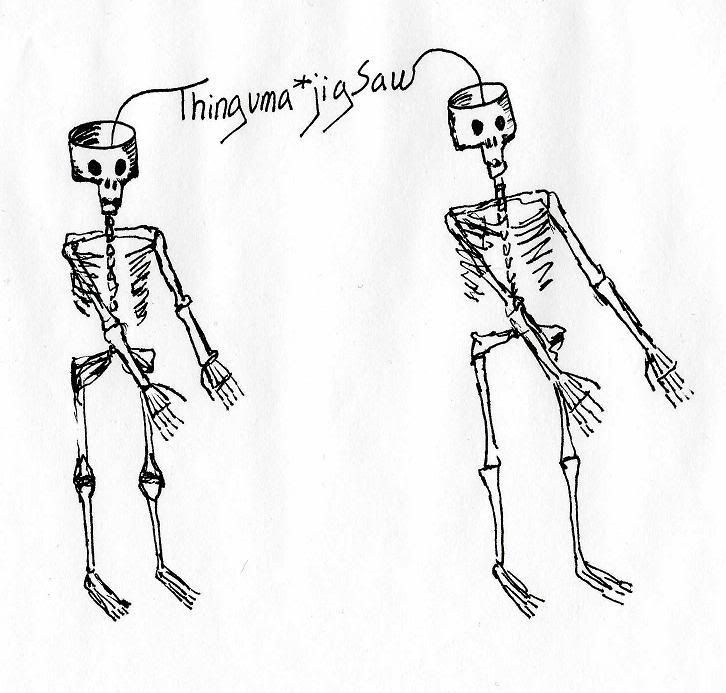 A banjo. A flute. A seriously demented singer.
Just over two months ago, Seth Buncombe and Martha Redivivus decamped from their native Norway to the Albion-esque Dublin, to start afresh in what they considered to be both the mythical world of a James Joyce novel and the Earth's folk capital. Marvellously for them (and us!), the town's changes of the last eighty years haven't left the band downbeat and disillusioned and they have quickly become darlings of the underground scene.
In such a short time, they've seemingly plied their trade around every venue in the city, where they stand amongst the crowd and direct their raw, unamplified tunes towards each onlooker individually. As Buncombe viciously strums his banjo in a way that the instrument has never before known (think Joey Santiago during the breakdown in Vamos), Redivivus splutters deranged half-notes into the air. Atop of this glorious stew of sound are Bumcombe's lyrics, which reference Moby Dick, Stephen King's Carrie, Ulysses, The Bible and Daniel Johnston (Buncombe's previous band collaborated with Johnston and thinguma*jigSaw are known to deliver terrific versions of Walking The Cow and Spirit World Rising). Although his yelping, grunting and general air of insanity may lead the audience to genuinely consider that he may be possessed by the quare fella, he is actually quite a mild-mannered man who speaks in a whisper ("I can't even make myself heard in Londis") and - like Redivivus - assumes a stage persona; this, of course, despite the fact that they don't utilise a stage.
Their debut album will be released in June on
Deserted Village Records,
and it is expected to be bundled with a live recording of their haunting performance on the top floor of the equally archaic
Hotel Ballymun.
Vox Populi
(
On The Verge
session)
Spirit World Rising
live video
Their myspace